365Playground Partner Gregory Burns: Art, Sport & Passion
With the 2012 Summer Olympics just around the corner, everyone's attention is poised to focus once again on the stories and lives behind each individual athlete. While the competition and sheer athleticism drives us to cheer, it is the story behind each win or loss that compel us.
As you might imagine, this brought 365Playground's attention to the fascinating journey taken by our partner, artist Gregory Burns, from contracting polio as a baby to the 1982 Barcelona Paralympics, and on to his current status as an internationally renowned artist and motivational speaker.
While many of us can only imagine excelling at one skill, Gregory has had duel passions for most of his life — art and sport. His swimming career began not long after his polio diagnosis, when, at the age of three and with the support of President Eisenhower's personal physician, he began swimming in the White House swimming pool. He didn't stop at just one sport, however. He managed his high school's basketball and baseball teams as a teenager, and has climbed some of the world's most impressive mountains as an adult. But it was swimming where he truly shone, competing in the 1992 Barcelona, 1996 Atlanta and 2000 Sydney Paralympics, setting four world records and capturing half a dozen medals.
And then there is his art. Over the past decade, Gregory has been invited as artist-in-residence to over 20 5-star resorts around the world. During these residencies, he's been able to live and paint in some of the
most exotic and inspiring places on the planet.
Blown away by the hard work, dedication and pure talent Gregory holds, we've asked him to answer a few questions about his work and duel passions.
What was a seminal experience in your artwork?
"Completing my Masters in Painting at the turn of the century was a
watershed moment, and very important in helping me develop a methodology of
painting."
How has your practice changed over time?
"As with most artists, I started out with "realism" and images of things.
As time has gone by, I now work as much with colors, shapes and strokes and
allow the imagery to disappear. I call myself an 'abstract-impressionist'.
What themes do you pursue?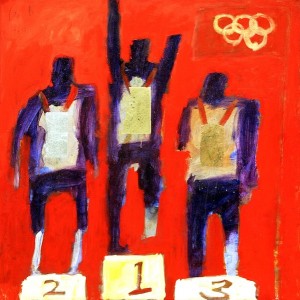 "Travel, journey, perseverance, home, flight."
You have an impressive athletic background — how do your passion for sport and your passion for painting work together? How — and why — did you begin to transition your focus from sport to painting?
"I feel that art and sport are similar. They both take passion and can be a form of expression. They both require a lot of strength and energy. I try in both to reach new levels and move beyond what I have done before and reach something unique and rich with significance and meaning."