From "Twister" to Ralph Lauren, Artist Evan Lewis Creates a Timeless Oeuvre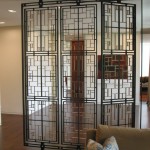 From a Hollywood movie depicting twisters in America's tornado alley, to custom mirrors for Ralph Lauren Polo and Saks Fifth Avenue, Evan Lewis is a sculptor with a wide scope of work.
Simultaneously creating wind-powered kinetic sculptures and designing and making hand-made furniture, his love and passion for both drives him.
Adding to the beauty of his work, all the steel used in creating Lewis' sculptures and furniture are 60% recycled steel, a practice 365Playground has long supported. In fact, some pieces were created purely out of materials salvaged from condemned buildings in Chicago. Explore photos of his unique pieces below.
In 1995, Warner Brothers Studio commissioned Lewis to build sculptures as well as rent existing sculptures for their movie, "Twister", starring Helen Hunt and Bill Paxton. For those who have seen the movie, you can see the sculptures during scenes at Aunt Meg, a character who created kinetic wind-powered sculptures and inspired Helen Hunt's character to improve her tornado measuring device.
While Lewis has enjoyed great commercial success (his furniture pieces have been purchased by interior designers and architects for such high profile clients as the Gansevoort Hotel in New York City, Jerry Seinfeld, Tracy Maitland and Oscar-winning art director Dante Ferretti), Lewis and his wife Sandra are shifting their focus to the fascinating creation of kinetic sound installations, both permanent and temporary. Adding to their emotional impact, these installations use tonal frequencies that have been utilized in meditation and healing work for thousands of years.
Look back soon on the 365Playground blog for more on their intriguing new path, and meanwhile, check out more photos of these works of art!