Simon Pettigrew
Advisor
Large Entertainment Operations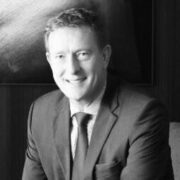 With 35 years of luxury hospitality experience in destinations across the world, Simon has a proven track record of positioning hotels to maximise profit – with a key focus on service delivery and customer satisfaction.
As a transformational and innovative hotelier, he has consistently and successfully created cultures of entrepreneurship, EBITDA growth, development and employee engagement.
He is an experienced and accomplished Managing Director, previously at La Jolla Beach and Tennis Club, and currently responsible for JW Marriott's successful Savannah Plant Riverside District – a state-of-the-art entertainment destination offering live music events, luxury hotel stays, incredible dining, wine tasting, and high-end shopping.
As Senior Vice President of Resort Operations, Simon led the Hotel and Food & Beverage teams of The Cosmopolitan of Las Vegas (2015-2020), working with other senior leaders to transform the resort into the best-performing asset on the Las Vegas strip. The resort's concert and event venue – The Chelsea – attracts some of today's hottest music and comedy acts, as well as sporting events.
Before that he led the senior leadership team at Four Season's Hotels and Resorts and was responsible for the resort's strategic plan.
With an extensive history of successful collaboration and strong relationships with owners and stakeholders, Simon is skilled at managing assets to improve return on investment. He is deeply passionate about delivering unique and customised experiences with an entrepreneurial spirit that maximises top line revenue and increases guest loyalty. With an unwavering drive to execute on owner and company vision, Simon always focuses on cultivating a passionate team that results in superior guest experiences.
Notable Career Achievements:
Increased EBITDA by 110% from 2014-2019. Collaborated with resort leadership, developed and executed the strategic plan for Blackstone ownership and led the successful delivery of operational objectives to position the resort for improved profitability.
Generated market-leading hotel occupancy of 98% with 20% RevPAR premium to nearest competitor and social media scores in the 4.6 range (second in the market), delivering best-in-class guest experiences positioning the resort to have a substantial competitive pricing advantage.
Increased F&B revenue by 36% from 2014-2019. Successfully integrated cutting-edge brands and trending restaurants at The Cosmopolitan of Las Vegas; partnering with world renowned restaurant operators such as The One Group, Think Food Group, Tao, Clique Hospitality, Zuma and Momofuku.